Can you believe it? I'm a bit in shock. We're three days into Blogtober and I'm still somehow going strong. To be honest I had low expectations for myself and didn't even think I'd get past day one without forgetting to post on here!  I'm already starting to feel like I'm clogging your feeds with my ramblings. Or I sit here dreaming like what if you all get withdrawal symptoms for me and my daily blogging. What if I never stop this madness and carry on into Blogvember, Blogmas, BlogJanuarySucks, Bloguary? Ok I'm paraphrasing but you get where I'm coming from. I'm 100% getting into the swing of things now so much so I've even done a blimmin' flatlay.  It's pink themed as well to go along with this post. Am I getting all the blogger points? Can I collect £200 and pass Peggy Porschens Go?
Today to any other normal human is just another Wednesday; another happy humpday. To the much more fetch majority, today is Mean Girls day as this year October 3rd fell on a Wednesday, so I hope you all wore your pink huns.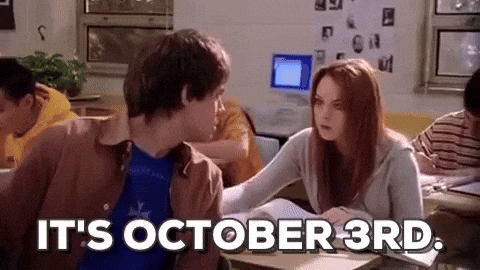 Mean Girls was the teenage film of the noughties. I still throw as many relevant quotes into conversation as humanely possible.  It isn't like your usual teen chick flick film it's full of laugh-a-minute jokes that you can tell isn't aimed at a usual 13 year old audience but will make adults giggle along too.
I went to a school in the countryside so the most amount of drama we had was when a parrot flew into one of the trees and we were all forced to stay inside the classrooms. As if we were going to go outside and get all pecked to death by a rabid parrot. This is the Costa Del Dorset not Barbados. Mean Girls was like any other teen film to me, usually based in an American high school, apart from things like Wild Child or Angus Thongs. It showed an exaggerated version of reality, with its wild depiction of the brutality and ridiculousness of going to school as a teenager, cliques, fitting in, peer pressure and the likes which teens go through in order to find and stay true to oneself within. It's beauty is in it's dark humor that high school inevitably draws out and the common trials and tribulations the younger generation face. The result is a hilarious, well-written/performed film that is unpredictable and my absolute fav Lindsay Lohan film.
There are so many parts of this film that are so true to life, true to school life and just general things that should be applied to the real world every day. Firstly and most importantly to me is Ms. Norbury's insistence the girls quit the smacktalking towards each other. I've usually been on the receiving end of nasty comments in school so wouldn't dream of saying these types of things to other girls or other people for that matter. I've never really understood why some people see it as a good thing to be seen as a bitch or petty or the like.
Maybe we do need a cake filled with rainbows and smiles so we can all share it, eat it and be happy. I'm fed up of a world where people don't support each other and would rather bring someone down than build them up. I don't know maybe I just have too many feelings…
Real friends don't treat you how Regina treated the other Plastics. A friend is someone who should be your cheerleader, supporting you and cheering you on (unless you're about to do something super dumb like get a tattoo on your face the day before an important interview or call your ex at 2am) but if they don't make you feel like Glen Coco maybe they're not right for you.
I hated that Cady played dumb for the attention of Aaron Samuels. Urgh. I know in the media and films it was never seen as 'cool' to be a nerd or a mathlete but that type of thing drives me mad in the thinking the only way to get the guy is to dumb down your strengths. Literally.
Most importantly it teaches you to be yourself and love you for exactly who you are.  As someone who could drive myself mad constantly comparing myself and my actions against others, it's so vital to remember that, you are you and that is your power.
HAPPY MEAN GIRLS DAY BABES X
MUCH LOVES. X